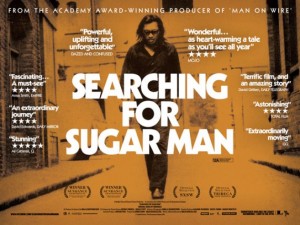 If you can meet with Triumph and Disaster

And treat those two impostors just the same….
Yours is the Earth and everything that's in it    from IF by Rudyard Kipling
"Mum, shut up, I hate it when you try and get all 'deep' " complains cynical 16 year old daughter this afternoon as we left the next movie on our Film Festival marathon  and I characteristically processed all my thoughts out loud. The movie was Searching for Sugarman about the rediscovery of musical genius Rodriguez, unknown in his home country USA but bigger than Elvis in South Africa.
So after being unceremoniously shut down a few hours ago, could you guys just listen up for a minute now?
This must-see feel good doco introduces us to an unlikely "prophet", literally an unsung modern day hero who despite radical swings in fame/fortune and appreciation/anonymity always remained humble, happy and accepting. His rare ability to rise above ego and remain centered in his higher self was nothing short of inspiring. Whether the world knew who he was or not was irrelevant to Rodriguez' state of mind – because he knew who he was at all times.
When Rodriguez eventually played to a packed out stadium for the first time, he remained unaffected and relaxed, taking it all in his stride. He was simply "at home" with who he was.
This week I was happy to reconnect with a few friends of mine, all turning 50 coincidentally, and it seemed a common thread was this "coming home" to whom we really are – discarding careers, connections and clutter that just don't seem to fit.
A simple phrase from Searching for Sugarman was "Home is acceptance". And accepting who you really are is, I think, the key to happiness.