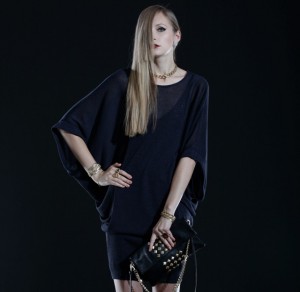 Well the Ancient Romans had it right – if you like lying about gorging on delicacies and washing it down with copious amounts of wine, the tunic is your best friend. More versatile than say a toga, the humble tunic is still a hit two milleniums on, particularly if you've had a couple of kids and are on the wrong side of 40. The only trouble with the tunic, is that the word "tunic" sounds so naff. But one has to differentiate it from a dress which is often cut too close to the body – none of that figure-hugging nonsense with a tunic
Dress it up, dress it down, wear on its own, over pants, with heels or flats, roman sandals for that matter, it probably "slices diced and juliennes" as well. But most importantly this forgiving Trojan horse of a garment hides a multitude of sins – from thickening waistlines to cellulite and when I have lolled about feasting, it's always the baby I pull out the next day.
And I have recently discovered the Empress of tunics, my new favorite little workwear designer for the 30 plus market – TK aka Turet Knuefermann.
To be honest, my friend Stacey, who always looks low-fi cool and completely unique, was wearing this great tunic recently and she made the mistake of telling me where she got it. Like the best friend you had when you were 16 , the one you have never forgiven, I shamelessly bought the exact dress the next day thus single handedly blowing Stacey's uniqueness and individual style. And furthermore I am sharing her secret with you. Check out Turet Knuefermann tk.net.nz. The site is a bit awkward at the moment but Turet promises me its about to be reskinned to make it easier to shop.
The specific tunic I am talking about is her "Scandinavian" tunic – pictured here in navy, I have it camel, and Stacey in black. You'll love it.
Thanks Turet. Sorry Stace.