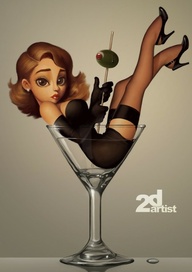 One of my little projects this year was to learn how to make an impressive martini on demand. I'd been given a random book last Christmas I would have never bought myself on mixing martinis. Rather then shelve it like I normally would, I thought, what the hell, ok, I will follow the instructions and become a martini expert.
So began my interest in martinis and I have just finished the awesome job of road testing the chapter on the classic styles.
As I am planning on seeing the new James Bond Skyfallmovie this week I am pleased to share this tried and tested recipe for a Vodka Martini extra dry, shaken not stirred.
Get good quality Vodka eg unflavoured 42 Below, extra dry Vermouth, one large green olive on a toothpick.
Fill a metal cocktail shaker with ice, add two parts vodka, one part vermouth, shake it maybe 10 times, pour whilst straining ice into the martini glass, add aforementioned olive.
Put on lounge music and enjoy.
Warning: don't make the mistake of mixing another one, it could ruin an otherwise pleasant evening.
More news from the cocktail bar will no doubt be coming throughout the summer. Stand by.