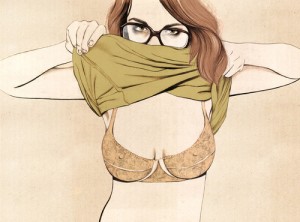 Just this week as I was sashaying around Kikki K in my favourite "feminine dress",  I became aware of something gently but quite definitely falling from my person onto the floor by my feet.  Oh great – it was the detachable bra strap from my rather crappy old bra which must have wormed its way through my sleeve hole during the previous meeting. (I wonder if it had been dangling down my arm during my presentation as I was gesticulating wildy making a point…)
Before the children came along, I used to spend a lot of time lingering in front of the mirror every morning. But now I am the age of the 'quick once-over' and accidents do happen e.g in my last role as an executive in the fashion industry it was not uncommon to  find I had worn my top inside out. Once I even wore  a dress back to front ("Oh I wore it like this on purpose" I lied)
I'm not the only one – years ago my sister after depositing two kids with a nanny, was trotting up Auckland's Queen St, far from home and 2 minutes away from an important meeting, only to look down and discover one brown shoe and one blue. Arrrgghhh . I remember a client met me in her reception area one day and as she turned around the price ticket of her new jacket swung halfway down her back. I witnessed an academic I know delivering a particularly moving speech as we all fixated on the washing  instruction label protruding from the dress seam on her hip. And yet another working mum I know was recently running to a meeting and a pair of underpants fell out of her trouser leg.
Anyway, I digress! My point actually is that before I buy any more outer garments to make up my wardrobe of 50, it's clear I better work this thing from the inside out and upgrade my undergarments – pronto.
So the second thing on my list of 50 is "decent bras". I'll  cluster these together and treat as one garment on the list – Week Two and cheating already.