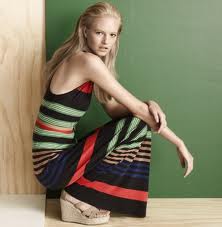 I've always been a bit of a fan of the 1970's international bohemian jetsetter look –  big sunglasses, floppy hats, and long maxi dresses with wedgy heels.  In fact I was married in a white flowing caftan which was all very "hosanna heysanna" when I look back on it. (Even further back was a strange phase my family went through in my teenage years when we 3 sisters and Mum wore long batik caftans, which Mum had sewn for us. No wonder Dad spent months hiding in the vege garden).
When I was working in the fashion industry, we sold a lot of caftans of the knee length variety. It took all my willpower to say "Oh no, people,  that's not a caftan ..THIS is a caftan" and wander in with a turban on my head wearing one of my old batik numbers….but luckily I didn't.   I am not a fan of the caftan top as it shouts out "I've put on weight" and I see too many 70 somethings wearing them.  And the traditional floor length caftan now seems a little too "beachwear" to be an essential.  But a good maxi dress, now there's something I cannot live without.
I have two maxis – my special occasions Maxi, fittingly purchased in Palm Springs, a very "maxi dress" sort of place,  and the Country Road Maxi I bought last year and still wear to work, on holiday, any occasion,  all the time. ( It's the one shown in the pic; hundreds have it, including me)
If you don't have an everyday Maxi I suggest you get on to it pronto.   Not only can you literally where it anywhere, anytime but little does anyone know that underneath it all you haven't even shaved your legs!