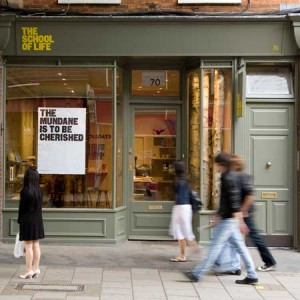 I had a great response to the post last week about the practical philosophy course I am undertaking and my general pursuit of mastering the art of living. It seems to me that people are really wanting to live more mindful and meaningful lives.
Another indicator is the number conversations I have had this year with people who are wanting to bring back the concept of 'the salon', a small gathering of people with similar values but not necessarily viewpoints to exchange ideas and expand the mind. (But I guess no one can be actually bothered doing it at this point!)So it comes as no surprise then that an enterprise really gaining momentum is London's
School Of Life
, the website for which is one of my firm favorites.
For those who don't know of the "school", it is housed in a small shop in Central London and offers a variety of programmes and services concerning how to live wisely and well. "Good ideas for everyday life".
Offering everything from Sunday sermons to short courses, the concept was developed by a bunch of modern day philosophers, and allows people to step back and think intelligently about life's little and big conundrums.
For instance you can go to a lecture on "how to be cool", "how to be confident" or an enquiry into "why work is often unfulfilling". You might like to make an appointment with a bibliotherapist who will prescribe you a reading list that scratches your particular itch.
Other services include a refreshing take on psychotherapy: "just as a car benefits from a periodic tune-up, at the School of Life we believe it would benefit many of us to consider a service for a far more crucial machine – our own minds". So their "stigma free" approach sees participants engaged in an enlightening one-to-one conversation with a trained professional marked by curiosity, respect and kindness. Great idea.
The School of Life is not anchored in any dogma, and incorporates a number of ideas – from philosophy to literature, psychology to the visual arts – all designed to expand your mind.
To me it reflects this growing trend in people simply wanting a better-rounded life, time to reflect, and a search for greater meaning. What a heartening trend!
So successful has it been, that the School of Life is expanding globally and will be opening a Melbourne branch in Collingwood come January. Hooray.
Take a look at their website, I am sure it will be a firm favorite and spark some new thoughts.www.theschooloflife.com