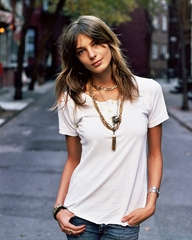 Writers might fear the emptiness of the blank page, but as far as fashion goes nothing beats a great white t-shirt.
Jessica Michault, Vogue Italia
I need some ideas urgently on where I can get a really decent, great quality, white tee shirt. No, not a wife beater, which few women can wear well. I'm looking for a classic white tee that makes a statement in a meeting, can hold its own at a special event, and knows how to relax on the weekend.
It came to me in a flash that it is an absolute must have currently missing in my wardrobe. I need a cotton one people and make it a little loose.
I am imagining it knotted over a dress, worn over jeans and as a backdrop to great jewelry. I'm wearing it under a sweater to keep me warmer in winter and over shorts to keep me looking crisp in summer.
All I need to do now is find my perfect tee. Please help