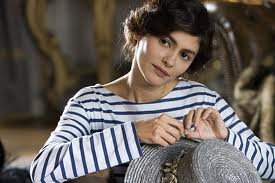 I am a mad keen fisherman. I love being out in the sea – hauling in snapper withy my soft bait rod I have named Donatella due to her over-the-top gold pattern and the rainbow fishing trace she came with, giving her a decidedly Versace feel. (We also have a more subdued fishing rod of the same ilk we call Gianni). Trust me, Donatella never fails me. But I think I fail her, with my horrendous get up I wear fishing – zinc smeared over my face, old hat, fish stained baggy short and husbands grotty old tee shirts. Yesterday morning when I was catching lunch and I was thinking about my appalling ensemble, it struck me that I really need an original Breton striped top. Not only is it practical and perennially stylish but when I am back in town it will transport me to the boat on Great Barrier where I swear I am in bliss, salt water splashing on my face, and the gratifying tug that tells me Donatella is delivering once again. I am also visualising a house in the South of France one day so it also serves to take me to that other favourite part of the world, where the imprint of one of my fave artist Picasso still looms large. Pablo himself was a great Breton top fan.
Originally hailing from the sailing culture of Brittany, the Breton top became a fashion symbol in 1917 when Coco Chanel teamed it with flares in her nautical collection and brought this original working class garment to the fashion world at a time where seaside resorts like Saint Tropez in the south of France became hugely popular. Thus the Breton top became "a symbol of haute-bourgeois loveliness during the pre-war Riviera years" as put by Wiki Fashion.
Over the years James Dean, Marilyn Monroe, Brigitte Bardot, Audrey Hepburn, Jean Seberg all agreed – the Breton top is a must-have.