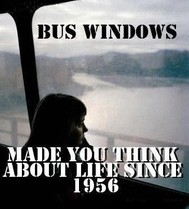 It was a little goal I had this year, to bring down my carbon footprint and get over myself at the same time by using alternative modes of transport to trek the 10kms into the city each day
There is in fact no excuse for me not to ride the bus – it's a nice 8 minute stroll to the bus stop where my app tells me precisely when the bus is coming, a straight run into the city alongside our beautiful harbor, and at the other end a one minute stroll to work. But this is still a huge novelty to me. To be honest for years I've thought myself just a little above taking public transport. And clearly far too busy to even think about it. (It was much like the public library. When I was in the height of my career madness some years ago, I realized I hadn't set foot into a library since I was a child, leaving my own kids going there with the nanny. And yet losing myself in bookstores including airport ones was my favourite pastime. When I finally did go to the library with the kids I thought it was incredible – you mean all these books for FREE?)
Buses are the same, you don't need to take your car, you jump on a comfortable cruise liner and just press a button when you want to stop. Plus, the government subsidises the ride. Genius. I must admit when I started using the bus, I felt a little conspicuous, almost needing to explain what I was doing there – "I can afford a car you know". Who were all these busriders aside from my dad with his Supergold pensioner free bus pass? Oh normal people who are not to up themselves to take a bus.
When I am driving in I tend to get into multitasking mode and feel the need to make calls (legally using a Parrot, mind). Not so on the bus, I just daydream away….
I have now progressed to occasionally carpooling with Sara from across the road, whose office is along from mine. It's fun – we gossip and when I put my make up on I don't have to coordinate with the traffic lights. Last week Sara brought us both icecreams on the way home. Pretty good for a free service I thought.
For my next trick I am going to try biking in – not in fluorescent Lycra with a racing helmet – are you mad? ..but on an electric bike using the footpath. That'll be interesting, stand by.