This week I have been "working from the bach" on Great Barrier Island. Just me and the kids for most of the week as my husband's work ethic and conscience got the better of him and he flew back for a few days. But not the new improved me! I stayed on. Initially I felt a little guilty getting an early run on the holidays while all my colleagues were still working but luckily that soon passed. When I realized "the end of the world was nigh" I decided to start preparing for a self-sufficient post-apocalyptic future.
One of the best things about this great island is that you have to make do – who knows when the weather will close in and supplies can't get to you. So it forces you to be a little self-sufficient.
I started taking stock of the food supply. My wonderful brother in law who lives on the island rows out to empty his craypot just off our beach so we are always good for crayfish should my fishing rod fail me. That's protein sorted. I have been picking greens from the community garden up the road and buying bags of fruits from people who sell them somewhat randomly at the side of the road. I've even discovered a secret lemon tree growing in the wild. Plus under the tutelage of my friend Grace, I've created my own garden out here having transported part of my city "Edible Balcony" to the Barrier (see previous post).
But how to cook these fresh ingredients? Enter organic pin up boy Jamie Oliver. We don't have TV at our place but we were savvy enough to ensure we are connected online so when the weather closed in this week for a couple of days I indulged my addiction to food porn and watched my new fave show "Jamie at Home" online to get all inspired on garden to table self-sufficiency. (I've never been into Jamie Oliver before but now I can't get enough of watching him getting his hands dirty as he pulls up organic beets and carrots from the earth, tossing salads with his big bare hands smothered in olive oil and tearing apart thyme and tarragon with wanton abandon. Playful little devil. Meanwhile, his slightly crazy-looking gardening sidekick Brian hovers about in the organic vege patch doing goodness knows what with those legumes).
When I noticed Jamie's prolific use of garlic it was a perfect excuse to take one of my favourite excursions to get my supply of special Great Barrier Island jumbo garlic – a 40 minute round trip 4WD adventure into the bush to visit the organic farmers Peter and Helga who supply it in huge bunches. Look at my pics – Jamie (and Brian) would die for this garlic – crunchy, aromatic, sort of water chestnut in consistency.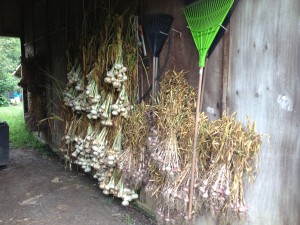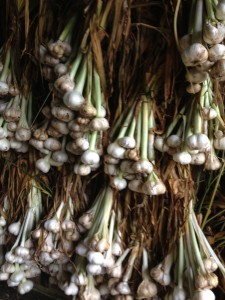 Anyway, after scrutinizing endless episodes of Jamie at Home I can advise you of the six vital ingredients you need in your endoftheworld emergency kit/kitchen should you want to eat well post-apocolypse – lemons, olive oil, chillis, sea salt, mint, and garlic. All of these I can get my hands on readily – even olive oil once I learn how to extract the oil from our neighbour's perfectly manicured olive grove.
Anyway, I could do on and on about Barrier bliss, and I'm sure I will in the weeks ahead.
As I write this, the 21st December is almost over for NZ and there's no sign of Armageddon. Maybe the world is ending in another time zone? The fatalists are now severely backtracking saying that one Mayan calendar has ended and another has begun. It is a time to rejoice as we start a completely new era. Let's hope its one that celebrates peace, harmony and all things au natural.