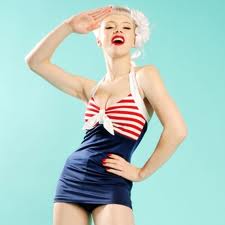 After one has kissed the bikini years goodbye (some time after the birth of the second child) and lived through those transitional "tankini" years, it's time to willingly surrender to the full piece swimsuit for your sake and others on the beach.
As I don't want the tragic poor woman's St Tropez look, with bits of mesh and underwire holding it all in place, I am opting for a vintage 40's/50's swimsuit. A character bathing costume if you will. Check our my favorite NZ vintage clothing store called Vintage Heaven. And trust me it is heaven! They have two great NZ stores – one in Nelson and the other in Wellington but for those out of town, check out their online shop.
By going vintage (and it is NEW vintage not second hand) attention is drawn to the style of bathing suit not the body within it.
My vintage inspired swimsuit (no I won't model it) has just made it's grand entrance on to Medlands Beach on Great Barrier Island. It is hilariously named "Hello Sailor" and the styling harks back to Betty Grable's pin up days. My 12 year old son said "No Mum you can't wear that". But I did.
As we have a full on tiki theme going at our bach, (with a full on tiki bar you will be hearing more about) I am now resisting temptation to also purchase the Bettie Page looking tiki-tastic Jungle togs. Loving them.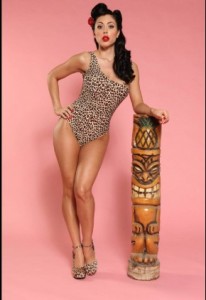 Anyway, take a look at these reasonably priced and fabulously original swimsuits, channel Esther Williams framed by her synchronized swimming crew and dive in to summer!