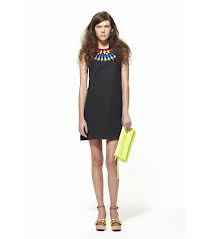 In 1926 Gabrielle "Coco" Chanel published a picture of a short, simple black dress in American Vogue. It was calf-length, straight, and decorated only by a few diagonal lines. Vogue called it "Chanel's Ford". Like the Model T, the little black dress was simple and accessible for women of all social classes. Vogue also said that the LBD would become "a sort of uniform for all women of taste" and as per usual they were right. So out of my list of 50 I am planning two LBD's- one for summer and one for winter.
There is a reason for that the little black dress has its own acronym. If you get it right, it wardrobe staple that will take you from a job interview and a wedding (preferably not your own). And even thought it sounds like a uniform there are a myriad of options. Today I debuted my summer LBD which I bought last week at Gormans' summer sale. If you haven't been into Gorman (only NZ store in is Nuffield St Newmarket) you are mad. They do colour and original prints in eco-chic fabrics like I haven't really seen before. They don't do a lot of black (nice change) and it follows that the LBD I bought had a splash of colour by way of resin detail stiched on to the collar area.
I imagined if Frida Kahlo was here today and going to a funeral (or a job interview for that matter), she may select this dress..
Here is a photo of someone 20 year old wearing the dress. I mightn't be as thin, but I look happier when I am wearing it.