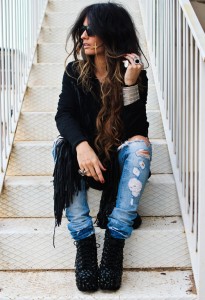 "I wish I had invented blue jeans. They have expression, modesty, sex appeal, simplicity – all I hope for in my clothes." Yves St Laurent
I don't know what is happening in the mainland at the moment but I pray by the time I get back to reality, the pastel jeans trend will be over…not that I ever went there. Red jeans was as far as I pushed coloured denim. But now I need a decent pair of blue jeans after scanning various street fashion sites and a bit of random pinteresting whilst holidaying (yes we have broadband and wi fi, my camping days roughing it are over) I realise that fabulous blue jeans are a style staple so I will make them my first 2013 wardrobe investment.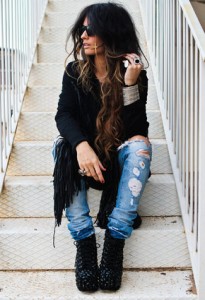 Remember that era of "dress jeans" probably jeans we ironed…. Well I want undress jeans so I can look like these fabulously stylish women snapped on the street in various European cities. Even though I have certain elements – unbrushed hair after 3 weeks on holiday, sunglasses and a hippie attitude I will possibly not be able to pull off this shambolic-chic look in this fave pic of mine unfortunately. But I will give it my best shot.