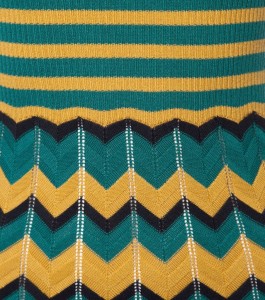 To be honest, I don't know if this is actually a wardrobe essential or if I am just retrofitting the decision to purchase it into my list of 50, but my new zig zag dress is a firm fave. Purchased from, yet again, Gormans (been there yet?) this chevron knit dress is a poor woman's Missoni, the latter being one of Nina Garcia's 100 things to have in your wardrobe.
I had never been really into them until I tried on this one, urged on by the shop assistant who insists on reminding me of my "great curves" every time I go in (She even said something like "yeah Mum says that all the time" or something, as if I would get on well with her Mother rather than her! She was kind of right though, I think it kind of detracts from the curves – must be the zig zags throwing the eye!
After admiring myself in the mirror wearing the dress on Sunday the universe sent me a signal – yes zig zag Chevron knits were bang on. The message came via Sunday magazine which coincidentally published an article on this very topic on Sunday. That was enough for me, and now I am seeing Chevron patterns everywhere, even in the insignia of my beloved Citroen!