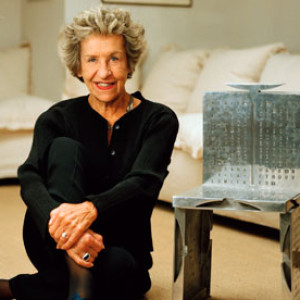 Be steady and well-ordered in your life, so that your work can be fierce and original . – Andrée Putman
A few days ago, Jan 19 to be precise, I asked my friend Jane if she knew of any women I could profile for theWTFproject. I was looking for women who had reinvented or at least really hit their stride post 50."Andrée Putman" she said immediately, and she went on to tell me more about this personal heroine of hers. Little did we know that Andree Putman had just died that day in Paris which makes this profile piece all the more poignant.
If you don't know her work, then google her. But here is her brief life story and I share at the end a slideshare which profiles her work and her design philosophies.
Born into a wealthy family from Lyon she began her early life following a career as a musician where she was instructed by a well known French composer, Francis Poulenc.
But, first curve ball – at the age of 20 she had a serious bike accident, which she barely survived. Soon after the accident, she decided against her initial career in music and from the illusion of safety her social environment offered her and decided to discover the world. One day, she emptied her bedroom and furnished it with just a hard iron bed, a chair and a Miró poster on the white walls. This early expression of her desire of independence led to a confrontation with her family ."What can one do when one did not go to school and is a musician who stopped playing music?", she asked her maternal grandmother, Madeleine Saint-René Taillandier. "Nothing except messenger", was the reply. Taking her grandmother's advice, Andrée started working as a messenger for Femina magazine.
While taking care of all the dirty little jobs of the office, she observed with a sharp eye the social theatre which takes place during meetings. She worked for Elle and L'Oeil, a prestigious art magazine where the still-lives she imagined with objects of various styles and from different periods attracted attention. These first jobs allowed Andrée to meet artists, characters more familiar to her than intellectuals. At the time, she was not confident enough to fully express herself. She therefore stayed in the background rather to put the talents of others in the limelight, something for which she showed great talent since she was raised in an artistically-rich environment.
Personally knowing what it is to "be trapped into the beaten tracks", she was moved by "people whose work is not understood", "impressed by these artists who do not look for anything else but remaining in the depth of their sincerity, their risk", she only wished to help them and establish a connection between them and the rest of the world. In the late 1950s, she married Jacques Putman, an art critic, collector and publisher. Together they associated with well known artists and in 1958,Putman collaborated with the retail chain Prisunic as Art Director of the Home Department, where her motto was to "design beautiful things for nothing".
Her wish of making art available to a larger public eventuated in her involvement in a new company aimed at developing the textile industry: Créateurs & Industriels. Leading her to reveal many talented designers to the world.
Then another curve ball or two: In the late 1970s, Créateurs & Industriels went bankrupt and Putman got divorced.
But it was at this juncture at 53 years old she really started the career which made her famous when she founded radical interior design company Ecart which took her to a high profile global market. She really started to hit her stride, and small point of detail, free spirited Putman was among the first in France to live in a loft.
In 1997, Andrée Putman created her eponymous Studio, specialising in interior design, product design and scenography which catapulted her into working with a vast array of the worlds top brands and organizations. Her work is so impressive I include a link to her slideshare which shows you more of her work and her design philosophy.
Andree Putman kept evolving, had the courage of her convictions, tried new things on a global scale, and was fully self expressed. What a woman.
.