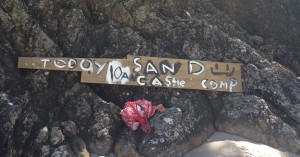 Over the last couple of years I have helped our 12 year old son Pete, his 11 year old cousin and two similar aged gorgeous girls from the bach on the hill organise the sandcastle competition on Medlands Beach. If you haven't ever done this, I fully recommend you organise one – a delight to observe children in event management mode.
Their efforts covered sponsorship (see the sponsors board), marketing (see the beach signage), selecting ambassadors (see the 3 judges taking it very seriously – they specifically chose Lance Herbst as his architectural practice won Home of the Year last year!) as well as various meetings to discuss rules, speeches, timekeeping etc. This year, their pre-production buzz inspired some other kids to complement the event with a lemonade stand (beautifully art directed I must say). The $2 entry fee and koha from the lemonade stand will all go to the the Great Barrier Island Charitable Trust – to keep alive the birds on Great Barrier Island like these beautiful Oyster Catchers with their chicks who checked out the sandcastle competition.
I feel confident we are in safe hands with this next generation of kids.