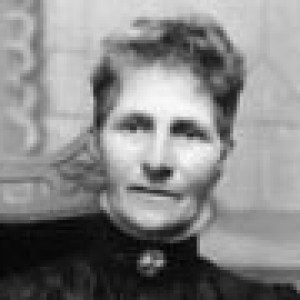 I've always been interested in pioneering women who break new ground. In NZ we love to commemorate Katherine Mansfield and Kate Sheppard as individuals who played by their own rules but there are plenty more interesting women in our history to become reacquainted with. So I'm on the look out to showcase some inspiring women from yesteryear in my blog – to re-introduce these women to new generations.
I particularly enjoy stories of women who lived creatively and of those whose talents really gain momentum later on in life. So, today I pay tribute to one woman who ticked a lot of interest boxes for me, Fanny Osborne.
Born Fanny Malcolm in Auckland, on the 29th January 1852, Fanny was the second of 13 children. When she was six years old her lawyer Dad decided to turn his hand to farming and beekeeping at the remote location of Great Barrier Island and the family moved to an extremely run down and isolated property in Rosalie Bay.
Homeschooled by their mother , the sibings were taken to the beach after lessons for recreational activity, which included drawing. It was there that Fanny's creative talents were first nurtured by her love of as drawing pictures in the sand. Her Mother, recognizing her talent, gave it scope by providing proper art materials purchased from Auckland. Apart from these early sketching activities Fanny was given no training in art.
In 1874 Fanny married Alfred Osborne, from a nearby farm; but both sets of parents had disapproved of the match and after the marriage, despite settling on the Osborne farm at Tryphena a mere 7 miles away, Fanny never spoke to her mother again! She went on herself to raise 13 children, whilst dabbling in watercolours of Great Barrier Island flora.
This developed into her creating the most exquisite watercolors of the flowers of the indigenous trees, shrubs, vines and herbs of Great Barrier Island. From both scientific and artistic points of view, her paintings of are exceptional and superbly crafted examples of botanical illustration. Some of the images she created show rare NZ natives and she even painted the beautiful Elytranthe adamsii (New Zealand mistletoe) which has since become extinct.
According to my research Fanny's most creative period was probably after her children had grown and her family responsibilities had lessened. She is someone who thrived as she aged and by the 1920s when she was well into her 70's, her work had became quite well known and she was selling sets of paintings and single works from her home at Tryphena.
But it doesn't stop there. As time has gone on Fanny and her work have become increasingly important and relevant for New Zealand. The largest collection of her work is held by the botany department of Auckland Museum and some years ago was showcased in a beautiful book by Jeanne Goulding.
And now Fanny is inspiring a new generation of New Zealanders.
Recently cosmetic and toiletries empire Les Floralies honored Fanny by creating the "Great Barrier Island Flowers " range – unique fragrances, beautiful product, I thoroughly recommend.
Here are some of Fanny's work for you to enjoy.