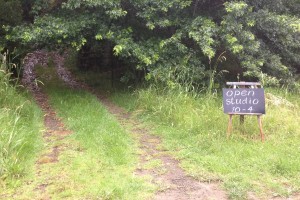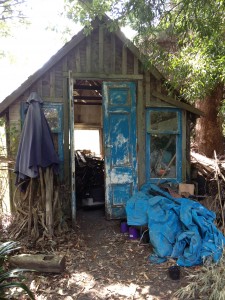 Ok, I promise after this post on gardens and Great Barrier Island, I will shut up for a while on both subjects. But I wanted to share this little adventure I went on with two pals of mine Moira and Jane. I like to make sure I do something completely new everytime I go to Great Barrier and I thought I was running out of new excursions. But sometimes you have no idea what is in your backyard, for this secret garden is a mere half a kilometre away from our house. It did help that the owner Cuan Forsyth decided to put a little sign up this summer saying "Studio Open" which piqued my interest. I have to be honest I did expect it to be just some hippie potter's studio full of stuff my parents would have bought in the 70′s. But it was a whole lot more than that.
Cuan is a man of many talents – architecture, painting, gardening, sculpture and his property reflects all of these facets, The garden meanders into the house which is also a studio and then seems to transform naturally into a bush walk featuring a number of his dramatic sculptures set within the foliage. At times we felt we were in England, turn around you are in Santorini, at other places France and even Japan.
We were all quite blown away by the experience and it leads me to believe that when you see a sign saying "Open", reserve all judgement and just go in!