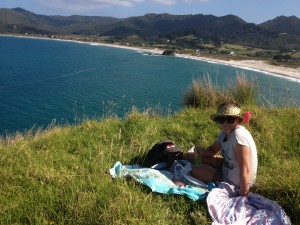 In this era it is important to celebrate wedding anniversaries with more than a card or carnations from a service station. It's a time to acknowledge -crikey, we made this unnatural state called marriage actually work, well done us.
As we are typically at Great Barrier Island for our Jan 10 event, it usually starts with a morning fishing and ends with a big party around the tiki bar. This year we decided to mix it up a bit – we had our usual anniversary fishing trip, this time with our close friend Martin who also happens to be the Minister who married us on Medlands Beach and our Aussie mate Jason. (We cleaned up, 21 fish in 2 hours. Water like a mirror, dolphins appeared, maybe it was the presence of a Minister..) Then in the early evening we decided to go on an anniversary adventure. So we cooked up the fish, grabbed some of those new Isaacs Feijoa ciders (even better than the Pear ones), and the two of us climbed the rather high Sugarloaf hill on the northern end of the beach where we had an early dinner overlooking the place we fell in love actually 20 years ago and married 9 years ago. It was a bliss, one of those moments that really count.
On the way down, Luke took me a new route he found, pretty much a sheer drop through cutty grass (luckily I'd had two Feijoa ciders by this stage which took the divorce risk out of the situation) and we had a lovely warm swim to finish things off (it's ok, we weren't that pissed)
So it you are still married (which 50% of my friends still are reflecting global western trends) push the boat out and have yourself a wee adventure.