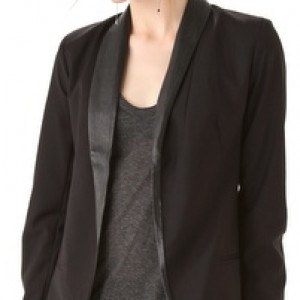 One of the issues of being more strategic about my wardrobe and attempting to select just 50 must-have's is that in this early part of the journey I haven't quite got enough to wear. Well of course technically I have but I suffer repetition discomfort and have always lived by the unwritten rule of " you don't wear the same thing to work twice in a row". When you are younger this signals – 'dirty stop out', and when older this signals – 'dirty person'. But this week due to a last minute wardrobe malfunction I broke the rule of a lifetime and wore the same dress two days in a row figuring the chances of someone seeing me in both cities (a plane journey away from each other) were very slim. I got away with it.
Anyway the malfunction basically derived from the discovery that my trusty black jacket is now just a little too tatty to wear and this threw my whole outfit plan out. When I worked in the fashion business I fell back on my black jacket over everything – dresses, mismatched black pants and especially jeans which if worn with a black jacket turns casual into smart casual in a cinch (as per the navy pants thing from last week). The black jacket I have just tossed out has survived not one, not two, but three seasons plus trans seasons so it was a great excuse to do a little online retail therapy.
One of my New Year resolutions was to cut out mindless TV watching – the hours spent doing this I have cleverly diverted to active browsing on fashion websites like asos.com and shopbp.com. If you haven't bought anything from asos.com or shop bop.com – come out from that rock you are living under!! Save yourself $$, enjoy free shipping; savor the delight of an exciting parcel arriving in the letterbox not to mention the parcel opening ritual.
I just bought this leather lapel black jacket from shopbop.com for about $60 from the comfort of my bedroom. I mean, why wouldn't you?