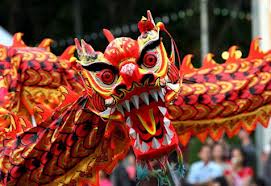 I was just thinking that I needed something that I wouldn't ordinarily do so I could write about it in my Play Up section. Then quite conveniently I realized it was Chinese New Year on Sunday and I've decided to embrace it, mix it up a bit, do my own thing but above all else acknowledge it and make it part of my calendar year.
Most of us need more rituals in our life. They anchor us, bring families and communities together, and help jolt us out of the ordinary. And as opposed to Christmas where I witness so many people stressing out whilst tapping into their inner Grinch , the Chinese seem to really LOVE Chinese New Year – its not just a ritual its part of who they are. Guest blogger, my niece Jenna, is of course part Chinese so Chinese New Year is an integral part of who she is and what she does. But I am only half Japanese so while I've been using chopsticks since I was 3, I am a relative newbie to the festivities.
I am according to the Chinese Zodiac sign a Water Rabbit and rest assured I bear no resemblance to the description, but not letting that put me off I am going to do the following things over the 12 day period following Saturday the 9th (new years eve where I will be making chinese dumplings for dinner):
I got this list from the About.com preparing for Chinese New Year site.
We all need to do this over the next few days
1. Go to a fortune teller. 
Learn your fortune for the year ahead. If this is too hard then look on astrologyzone.com. Some of the most sensible people I know can't help looking at this site.
2. Get a Hair Cut.
 A hair cut before New Year's is a must as cutting anything during Chinese New Year is considered bad luck. Here's a tip. Look at www.flossie.com NZ's first vanity club where you can book last minute cheap hair and beauty deals.
3. Clean the House. 
Getting organized and doing a thorough spring cleaning are required and must be completed by Chinese New Year. This doesn't sound like fun at all and I am clearly up for a dull Saturday.
4. Go Shopping before Chinese New Year arrives and by the following items: Chinese New Year Food: I have already bought the dumplings so I can avoid making from scratch and I am going to ignore other things on the list like longan and lotus root. New Clothes: I already have two cheongsams I bring out for fun and the occasional mahjong game so I am going with the second suggestion of red underwear with gold trim. Hilarious if not a little slutty. Chinese Gifts:
I like this one. Giving younger generation some $ in a red envelope. Why not? I wish I'd received more cash when I was younger. My sisters' children are wonderful and well deserving so I'm going help them along a bit and throw a little cash my kids way.
And then in a couple of weeks time I will brave it and go to the Lantern Festival to marvel at the dragon warding off evil spirits who will get in the way of my good luck and prosperity in the Year of the Snake.
So before you write off Chinese New Year as being just for the Chinese, consider this:
It gives us a second chance after the standard New Year.
It's also called Spring Festival and by its very nature, Spring is about new beginnings.
It's also the lunar new year and therefore the dates are movable (I like flexibility). There are 12 lunar months in the year and by definition the evening of the first day of the month is the darkest night of the month. As the nights progress, the moon becomes fuller and fuller until the fifteenth night when there is a "full moon," the brightest evening of the month. Women are naturally connected to the moon. And when I was going through my pagan wiccan phase a few years ago, I did a bit of full moon chanting with some other aspiring pagan witches. Kind of fun. I like the moon!
Incense is burned in homes and temples to pay respect to ancestors and ask the good for good health in the coming year. Who doesn't love a bit of incense…
Because it's over 15 days, it is the gift that keeps giving. There is no anti-climatic Boxing Day or New Years Day hangover. You keep on celebrating…
And above all else its just seems a happy time centred on themes of happiness, wealth and longevity
It's also worth noting that China is unleashing its power and influence over the world after isolating itself for such a long time. So its best we all get into the swing of things and join this wonderful celebration.
http://www.chinesenewyear.org.nz