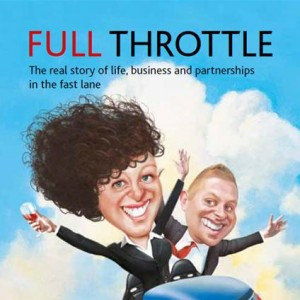 The inspirational stories I love the most are those about reinvention – those who have transformed themselves by not allowing their past to define whom they are.
Recently I was taken to lunch by the most fascinating chap, John Caldwell, whom I hope will end up being a pal. So interesting was he that I have interviewed him for my Inspirational Interview series despite an early declaration that is was only going to be about inspirational women (he's gay, so it kind of counts).
John Caldwell is the Group CEO of Retail World Resourcing based in Australia – but he wasn't born so fancy schmancy.
In fact he hailed from a Gold Coast trailer park, survived consistent bullying through school, an unsupportive family where alcohol and promiscuous sex reigned supreme, witnessed his father's suicide in the family caravan, sexual abuse, need I go on?
He had no choice but to run away from home, drop out of school (despite harbouring a desire for an education), couch surf and find work at Dominos Pizza.
But John did what very few people do, he didn't let his past define him. By 21 he owned two Domino Pizza franchises and was franchisee of the year. By his mid 20's he had bought into Retail World Resourcing which he and his fabulous business partner Trish Mclean (a whole other brilliant story of survive and thrive) have grown into a hugely successful business.
John is currently living his dream which just keeps getting bigger as he is in the midst of getting his own reality TV series off the ground.
Trish and John have written a book about their individual and collective stories to inspire others to break through boundaries and achieve their dreams. Quite aptly the book is called Full Throttle and is available online at www.fullthrottlebook.co.nz. I went to the book launch tonight to share in the buzz that surrounds these two.
Anwyay grab a cup of tea and be prepared to be inspired with this latest Inspiration Interview:
(SANDY) What is your philosophy on life?
[John Caldwell] Go full throttle and don't look back.
(SANDY) When and how did this form?
[John Caldwell] It wasn't a moment or even an idea, it was a survival tactic and an evolution. I can recall when I was as young as 5 that I wanted to be different and do more, so going full throttle was just evolution. Don't look back is where the survival instinct kicked in. there was nothing good back there so I just kept looking forward. So whilst this was just a lifestyle I would not have ever been able to put it into words.
"When the words to describe my philosophy came to mind"? Now that's much easier !r It was Wednesday 23 January 2013 when I lad lunch and a brainstorming session with the Fabulous Sandy Burgham.
(SANDY) Aw shucks John I really should eidt that out but I wont! What is it about the work you do that you love?
[John Caldwell] I love the diversity of the role I have created. My passion for the recruitment game is about "Making a difference in people lives". When someone comes to us for a job they either want to change because they are not happy or because they want more or a promotion or the next step. To be able to help them with that can genuinely be life changing for some people and that gives me such a thrill.
I also love that owning a business means I can pick and choose the roles I want to do. Whilst turnover in our management team is low on the odd occasion someone does move on it gives me the chance to revaluate my role and where I would enjoy having more focus. It's a great way to keep myself challenged
(SANDY) Tell me more about the reality series you are filming?
[John Caldwell] Full Throttle the TV series is a fly on the wall access all areas to my life. It's about looking at my life and the decisions I make and how they have created wealth and not just for me but those I surround myself with. My life is crazy and chaotic and people always ask me "where are you now" and " how do you manage all of this" so we decided to let a film crew follow me and show people how I do it.
It's a great example of how you can come from nothing and create something amazing and an awesome lifestyle just through embracing the philosophy of Go full throttle and don't look back. It also shows how people who have worked with me have followed the philosophy and have created their own wealth like some of my franchisees.
You also get a sneak peak at my private life with all the trimmings and toys, cars, houses, boats and celebrity friends partying with me all over the world but that's just a bi product of the work we do!
(SANDY) You have done so much in your life, what have been the biggest buzzes?
[John Caldwell] Starting Retailworld in Australia in a cluttered market when everyone said I couldn't do it was a real buzz! I also had a vision for years to make it a franchise business and "share the wealth" with other special people so to see that role out really floated my boat. More recently being able to put my journey down on paper and share my experiences through Full Throttle the book was simply amazing, it was great therapy to get it all out there and the feedback from people close and those who are almost a distant memory has humbled me no end.
(SANDY) What do you love about RWR?
[John Caldwell] As a brand I love RWR and our other brand HWR (for the hospitality industry) because they are so unique, they are not just another recruitment firm they are special places for special people. In Retailworld we only hire retailers and in Hospoworld we hire hospitality experts, People who know what they are talking about and genuinely care about the industry. We also allow people to be unique and I am always amazed what ever office I go into in whatever country there is no RWR or HWR perfect "fit" everyone is so unique and different and genuine. Let's be honest they broke the mould when they broke me so "typical" straight laced people probably would hate working with me anyway.
(SANDY) What advice would you give people who want to reinvent themselves?
[John Caldwell]
You guessed it "Go full throttle and don't look back"!! Seriously though if you read my book you will see the tremendous adversity that I had to overcome. I have 2 sisters who have not managed to break the mould. Same upbringing, same education, same situation. What was the difference ? Mindset! They said I can't I said I can. Starting my company, franchising it then launching a second brand then writing and releasing a book and now filming a TV show. You know a publisher said I wouldn't get my book off the ground so I said F You and I did it. Age, sex, race or upbringing are all just excuses, yes other people may discriminate and it may be harder to make it happen but just do it ! Someone asked me recently if I really think I can get my TV show tro air and I said of course I do but if it doesn't I would rather be a failed reality TV producer than a never attempted one!
(SANDY) Has being gay helped or hindered you? Has it even been an issue in your career?
[John Caldwell] It was a huge issue but not in my career in my head! This therefore became a huge career issue for me. I was so sure it would be an issue, so sure it would hold me back. I believed everything I had heard and read about discrimination holding gay people back so I concealed it for a long time and it naturally limited me. When you are not being yourself you can't possibly reach your full potential. Once I realised that using this as an excuse was exactly the same as using my upbringing as an excuse I let myself come out and voila I started to reach my full potential. As for has it helped me I can't say I have ever been given a break or an advantage because of it but it's me at the end of the day so it's all helped
Wow!
Don't forget if you want to be truly inspired check out John and Trish's book "Full Throttle" . It's an addictive read!
www.fullthrottlebook.co.nz