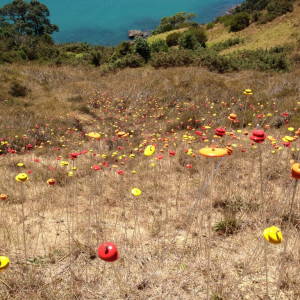 Look, I'm a bit of an island snob, being so passionate about Great Barrier Island and all, and have always written off Waiheke Island as a place for Aucklanders who couldn't hack the pace in the most remote of all Hauraki Gulf Islands…
But yesterday I took myself and the kids off to do the Waiheke Island Headlands Sculpture Walk and I had to admit – they do it well! Apart from the 1000 other people who thought the Wednesday public holiday was a fine time to jump on a ferry, it was a spectacular day out.
If you have never done it, do it! It's easy, cheap (apart from the ferry ride, they just take a donation), great exercise (a perfect 2.5km walk)and all with a stunningly beautiful outlook. Plus of course there is the artwork. 30 large sculptural pieces that one discovers along the shoreline – you are bound to fall in love with one or two of them. For myself it was Sarah Brill's work Wildfire that got me – see the main pic here (so relevant with the bushfires on both Great Barrier and Waiheke) and it was a treat to talk to the artist as she was doing a few minor repairs.
We've taken the kids to galleries for years but this great getting them to experience art in an open landscape context. Pete really was drawn to the progressive "Temporary" work which accompanied you through the whole walk, and Pippi loved the Birds.
It's on until Feb 17 so GO!!
It should be noted that Waiheke Island was recently named one of the world's top destinations by the New York Times. Isn't that great? I felt proud of it!