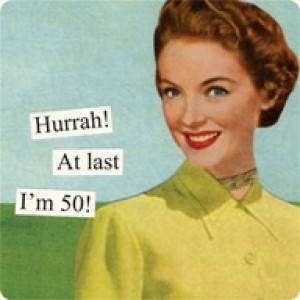 Gosh made it. So pleased. Does it feel good? Well I feel good but it's weird thinking that there is a high chance that half of my life is over. Better make the rest of it count.
I haven't thought too much about this blog entry but off the top of my head here are some starters for ten…
TEN THINGS I AM MOST GLAD OF:
1 That I am healthy as far as I am aware
2 That I have had so much fun, possibly too much at times.
3 That I have had about four careers spanning advertising, social insights research, retail marketing and management, executive coaching. And haven't done too badly in them
4 Even though it was only for 18 years I had a Mother who stressed the importance of loving myself (much to my older sisters' consternation who thought she had created a monster) and who helped me see the world in holistic spiritual terms
5 That I have travelled widely
6 That I found my turangawaewae – Great Barrier Island
7 That my Dad and my sisters and I are still all so close and see each other all the time
8 That I had kids, despite them cramping my style on many occasions
9 That I am still married and seemed to have made this unnatural social contruct called marriage work – (see top regret)
10 That I still have so much I want to do
TEN TOP REGRETS
1 That I didn't buy another house down the road so when Luke annoys me he can just go and live there for a while
2 That I didn't keep up my hour a day yoga practice of my teens. I am now scrambling to reinstate this
3 That I didn't save 10% of my salary as a practice
4 That I didn't go to university after school and study things I was generally interested in. I may as well have started my career at 25 vs 18, It made no difference. I am now planning uni for interest sake at 50.
5 That I didn't force Mum to speak to me in Japanese. My skills are conversational for travel purposes at best.
6 That I came back to NZ from London just short of the time needed to grant me a British Passport
7 Gosh I don't have any other regrets.
8 Oh there are a couple of guys I could have done without sleeping with. But I hardly remember them…..case in point….
9 And maybe I shouldn't have opened that extra bottle of Pinot last night
10 And maybe I ate too much chocolate as well
Today I am a preparing a bucket list which I will publish next week.
I am 50, I am alive, I am happy.