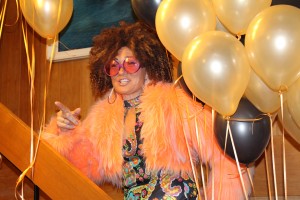 Forgive me readers for I have sinned, it's been two weeks since my last post…
But I can be forgiven as I was busy organising a funkalicious 50th celebration from which I have just recovered. In a nutshell, it was the best party I have ever been to. My favourite DJ Peter Urlich laying down his funk beats in the basement and over 100 afro wig-wearing friends weaved in and out of various rooms of the house. Mr Toots appeared direct from 1974 (a character my friend Steve created 20 years ago for my Playboy mansion themed 30th, which he resurrected for one night only) and my 86 year old Dad was seen dancing as late as 11pm wine glass in hand – I hope this attitude is in our genes. My dear friend Mads arrived from Brisbane which was lucky as I had an attack of preparty nerves at 7pm which she swiftly doused with two stiff vodkas. After that I settled in and enjoyed. What was lovely for me was seeing a real array of friends that I have collected over the years. I don't see all of them frequently but it really was a great cross section of people I have shared some special times with – I felt blessed.
Here is the ending of my speech I made to my family and friends:
Thank you for letting me be me and liking me the way I am. My mother before she died used to take me aside for regular self esteem checks. (Clearly they worked.) She said to me "you are a survivor, but people might not pick how sincere you are, and be careful not to accidentally trod on people". Sorry if I've trodden on your toes by mistake. Yes I have survived 50 years, and I am sincerely grateful for you celebrating this with me. Here's to celebrating milestones, to family and friends, to living the life the way we have been meaning to.