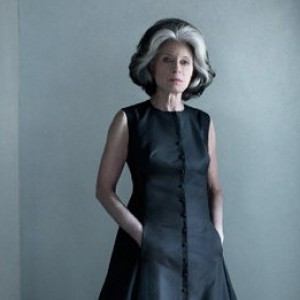 I am sometimes sent info about women that readers of my blog want to showcase and so I am delighted to share my friend Sandy C's (as opposed to me- 'Sandy B') obsession with Deeda Blair, New York socialite, philanthropist, chic fashionista and leading light in the world of scientific research. Who knew science could be seem so elegantly sophisticated?
Here is a link to a recent profile on Blair in the NY Times Style Magazine by Andrew Soloman entitled The Elegance of Conviction. I quote:
"Most scientists are astonished by Deeda Blair's style, and the style mavens are surprised by her scientific expertise".
Amongst other things, Deeda serves on boards for the Harvard AIDS Institute, the Scripps Research Institute (a nonprofit biomedical research organization) and the Foundation for the National Institutes of Health. But she is no scientific pointy head. At the ripe age of 73, she still manages to be seen as a fashion icon and sports a unique slightly eccentirc bouffant hairdo with lightning white streaks, a look she has favoured for some years.
Here's a couple of fave excerpts from the article:
"The word "elegant" is in regular use in both fashion and science; it can describe a certain understated self-assurance manifest in a choice of shoes or an arrangement of furniture — and, equally, the underlying structures of the universe or the transcription of RNA. It perfectly describes Deeda. Her couture is severe and simple, the kind that only the knowing eye can identify as couture. Her trademark bouffant has not changed in 50 years, but it does not feel dated; it feels Deeda"
After a bit more background digging on Deeda I found more interesting aspects to this woman: These days, she is the family breadwinner — Once when a friend congratulated her husband William Blair Jnr now 88, on looking so well she quipped "Of course he looks wonderful. He's not the one who is working." What few people know is that she had little choice. William Blair, a well-connected Kennedy insider, suffered a number of financial setbacks after his father's death in 1982 and found himself at a financial crossroads. Apparently Deeda Blair sold a pair of 22.4-carat diamond earrings given to her by her husband several years after the wedding and embarked on her new career. Aside from being a philanthropist, Blair started consulting in the science world earning fees or stock from at least a half-dozen drug and biotech companies,
She credits her resolve to her mentor, the late Mary Lasker, another philanthropist and advocate for the National Institute of Health, who gave Blair the wherewithal and the social cachet to establish herself on the international scene as a player independent of the confines of Washington society.
"Mary always felt a woman needed to be responsible for her own finances," says Blair, who based her decision to sell her earrings on the notion that jewelry, unlike drawings, porcelain or a fine piece of furniture, generally tends to depreciate in value.
I love this quote about Blair from the NY Times article:"Pretension lies in striving to be who you are not; Deeda, rather, tries to be even more of who she is".

Woman after my own heart.