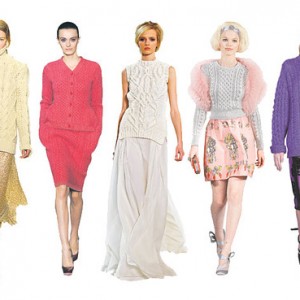 It's officially freezing so out come the wooly knits. This week I am putting a good word in for the Fisherman's jumper which we all need in our wardrobe and as mine is more of a half-sleeve vest I bought last year at Gorman's(of course) I could probably do with investing in a new one with long sleeves. I note style icon Ines de la Fressange favours a fisherman's jumper as well. Hmm not sure if i look like a reed thin Parisienne in mine but no matter.
Nothing like a good chunky cable knit Aran jumper. I did a bit of wiki research and found that these fisherman jumpers hail from islands off the west coast of Ireland, where the residents many years ago first made them with "black sheep's" wool that was unscoured – hence the lanolin making them water resistant.
It is of course an old wives tale that they were actually made to go fishing in, and mine have alway been to precious to do that to them but it's a nice thought.