After showcasing a supercharged 60 year old last week it is only fitting that I progress to a sensational 70-something this week to remind you that you have years of fun, achievement and new experiences to look forward to….if you want!
I have had the good fortune of working with an amazing 76 year old, Audrey McHardy the co-founder of Redcurrent, the home and lifestyle accessories retailer. She is definitely one of the most fascinating women I have ever encountered and last week after two days of fireside meetings at her simply breathtaking home, "Tauroa" in the Hawkes Bay, we had a gin and tonic and a chat about her unique life.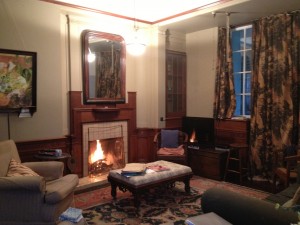 (It should be noted that the backdrop to this story is Tauroa – one of the oldest homesteads in the Hawkes Bay. It was purchased some 30 years ago by Audrey and her husand when it was in a pretty sorry state. With a husband working during the week in the big smoke, Audrey lived weekdays alone for 17 years over which time she painstakingly restored Tauroa not to it's former glory but beyond it. This is not some aloof, sterile stately mansion, but a warm inviting 9-bedroom, 5-working-fireplace, liveable home in which every room is a delight. Think Downton Abbey crossed with Dodie Smith's "I Capture the Castle".)
ME What is great about being in your 70′s?
AUDREY I never even think about getting old; that aspect doesn't even enter my head. It feels no different than being 60
I can still do what I like. I am not bound by rules
I have a nice husband, 5 gorgeous children, and 15 grandchildren and we have not had too many medical problems in the family..
ME
Audrey, to what degree has your upbringing influened who you are and how you live your life?
AUDREY
I am one of 6 kids and my mother was one of 12. She was an amazing woman and we were brought up simply and humbly. l left NZ for the first time at 19,….we never went on holiday as we were so happy at home. We loved simple things like lighting little bonfires and having fun. My parents didn't have a lot of money. But my father was a politician and was knighted when I was 30. Sir Jack Acland. My mother became Kit, Lady Acland.
ME
So Audrey, how did Redcurrent come about? Tell me about the pre-history; the story from which Redcurrent emerged? You were 60 when you started it all? That's amazing.
AUDREY
Redcurrent started 16 years. Yes I had turned 60 and my husband was still working in banking. We went to Bali for a holiday and while on a bus trip so my husband could look at wheat, I wandered off and found all these wooden animals for sale made by a local craftsman.
At that point we were needing cash, interests rates were high and a few things were going wrong for us. I went back to the hotel thinking I could make money out of those animals… so I came back with wooden animals in my suitcase and I sold them all. I had a second hand dealer license and soon I was fossicking around the area and collecting things from the mart. I used to restore old milk cans and so forth and started selling them. I went back twice to Bali with two of my daughters and brought in containers of furniture and put them into the shed and sold them.
I was very naïve, I had things written in a Croxley notepad and didn't even know about shipping documents! …I had nothing! On the first shipment when they asked for shipping documents, I cried ….and he said 'ok just this once'…..
My Mother (Kit, Lady Acland) was staying at the house and she really encouaged me. She was very intelligent and loved what I was doing…. she was in her 70's and saying that she wished she had done this! Suddenly I thought 'this is ridiculous I could be really good at this', so I decided one Easter to get a shop in Havelock North….the kids thought it was a dreadful idea…. I didn't really know a lot about how to do it…I kept money in a box! Then I had temporary shops in Auckland, one in Herne Bay…..I can't believe I did this…..I did one in Kingsland as well as the Herne Bay one. Then it all went really well…we had a flat in Auckland as my husband was working there at the time so it all worked in perfectly
ME Perfectly?
AUDREY Well I don't want to go on about it but I suffered a brain tumor in the middle of all this. I kept passing out and thinking – 'gosh what is going on'. So I got over that and because I couldn't drive I had to walk from Herne Bay to Kingsland with a bandaged head …Then I closed my shops in Auckland and this coincided with my daughter Rebecca coming back from Australia and I said 'come and help me'. She became my partner. So we took Tauroa Trading as it was known and created something new called Redcurrent, and opened in Ponsonby.
ME You still work actively in the business; what do you love about it?
AUDREY I am a trader. I'm not a gypsy, the girls get furious when I say that. But I like buying the stuff that sells. I do heaps of the buying still and I like seeing what I bought sells
ME So what do you appreciate the most about your life now?
AUDREY I am a very "home" person but I love having a project. It means you get up in the morning and feel fulfilled. I could play golf and bridge, but I can still do that in my 80's. Everyday I like going to work; some women say I look exhausted but I don't get tired. I have never needed a lot of sleep
ME What is the secret to your great marriage
AUDREY I was married at 23. You both do your own thing, I am looking at all these women who get fed up with their husbands and complain that they feel like the martyr….you have to have your own interests because then you have something interesting to talk about at dinner. I've had a free rein, so I am pretty lucky.
ME What's amazing about the place you live in?
AUDREY I was here for 17 years by myself during the week, I fixed this entire house up by myself…. I put effort in and its quite unique, its got a nice feeling. When we moved here its was very Victorian and posh I have tried to un-posh it I guess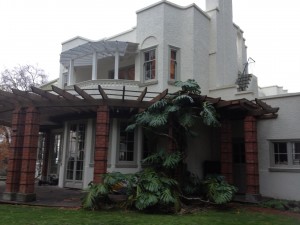 ME
Audrey, what's your secret, your life philosophy, or the code by which you live?
AUDREY (after a bit of self-effacing mdoesty)
A lot of women are shocking with money, I can't believe it… and then they say to me that I am lucky!
I've always been a saver but I am generous….I am not mean…. but I am quite a good a little saver..
I am always quite happy; it doesn't take much to make me happy.
And I try and do one good thing a day for someone…. just little things…I've had an interesting life; some people have had boring ones, but they can get out of it…. its a choice, they can get out of it
Thanks so much Audrey xx
So people – it's up to you. Boring life or interesting life? Audrey started a completely new business at 60. What are YOU doing that's new and a little out of your comfort zone?
For more on Tauroa, Audrey and the Redcurrent story click here and see the Life and Leisure spread.