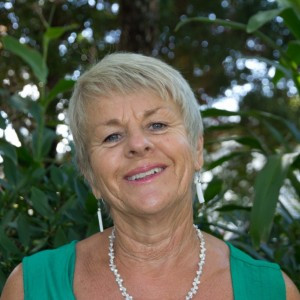 When I go to Great Barrier as I have just done over this long weekend one of my favourite excursions is the 30 minute drive to see my friend Judy Gilbert in her breathtaking "Scallop House" which enjoys panoramic views of Medlands Beach from a ridge.
Jude has a big vision for Great Barrier Island and that is to make it rat and feral cat free which will bring back the birdlife and provide an ecological point of difference that can be leveraged environmentally and commercially. She created a sustainable not for profit Windy Hill Sanctuary which traps rats in the immediate 620 acres around her home. In the last 8 years the programme, in which she employs 8 people has trapped 40,000 rats and poisoned probably nearly as many again. And the flourishing birdlife on Windy Hill and beyond is a testament to this.
For her latest trick she is putting her hand up of Great Barrier Local Board elections in October.
Jude is exactly ten years older than me (so while I am a WTF woman TURNED fifty, I guess she is a SAS – a Sassy as Sixtyyearold)
Here is a snippet of our conversation over the weekend. It's what we all have to look forward to:
ME What do you love about being 60
JUDE I'm excited about life – while the body succumbs disgracefully to gravity the mind soars with accumulated wisdom and know how. I walk confidently in my own 'moccasins', yet at the same time enjoy the freedom of the notion that middle aged women are invisible. The sex symbol thing has definitely died! What a relief. I have also stopped being a 'seeker' because by now you know that all that you need in life is within you.
ME When was the last time you got out of your comfort zone?
JUDE Yesterday, when you made me put stuff on Facebook!
Getting out of my comfort zone is a constant part of life, and its stimulus is varied; it may be having to dig out the composting loo and deliver the buckets of goodies all round my garden, or standing in front of 250 people and telling them about the Windy Hill Sanctuary as I have done twice in the last couple of weeks, or meeting with really brainy people! Going to the Local Board meetings and speaking up in the Public Forum always makes my gut turn. If you are a person who puts ideas out into the world then you will always meet with opposing energy and in small community this can sometimes take you to the edges of comfort with your friends. It's all about accepting that this is how life is and that it is all just stories and stuff!
ME You've just turned 60; what's you "60″ project this year?
JUDE The inner project remains the same – slow everything down and feel inner peace, even briefly. Be kind to myself.
The outer project? Apart from growing and sustaining the outcomes of the Windy Hill Sanctuary, including the people who work so well there, it is to enjoy my campaign to be elected to the Local Board at the same time as allowing spontaneous time for family and friends.
ME What's amazing about the place you live in
JUDE Its sheer gobsmacking beauty. To live in a beautiful house, surrounded by vibrant bush full of birds and other critters, on an island, is uplifting. The Mayan calendar says my life's purpose is to show people the beauty in art and nature- and this is what it turns out I do. My house and garden are full of local art and treasures gathered on travels, while the surrounding bush and all its native critters are actively protected within a pest managed sanctuary which I run.
ME You have an unusual marriage but it's a good one – what's the secret to a great marriage?
JUDE Getting it that 'relationship is about understanding and accepting another person's way of being'. The moment I got off my husband's case about wanting him to be different to what he was, there was so much more room for fun, and laughter at the craziness of our characters. Who are we to say how another person should be or live their life? We have lived in our own houses for the last 19 years and having this much freedom for us has been a key to the longevity (25 years), stimulation, and appreciation in our marriage.
ME What do you appreciate most about your life:
JUDE:
I was/am a loved and valued child – how lucky that I got to realise that and know my parents know it
I got to experience being a mother (an imperfect one) and have a fine healthy son
I have had some wonderful woman teachers, read great books, and adopted some key messages that sustain me though my daily life – some of these I've quoted through these questions
I have been challenged to love and accept all of myself – the great and the gruesome. You can't just love the good bits – love doesn't work like that – its everything
I have enormous freedom to pursue my visions and dreams and for that I am deeply indebted to my husband Scott
Oh Jude – you have my vote!!
Congratulations on your new website and blog www.judygilbert.co.nz
Sx