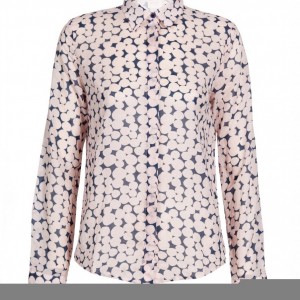 When my now teen daughter was 4 she began asserting her own fashion sense away from mine. Fair enough but for some reason I still try and influence what she wears, usually far more buttoned up, warmer, and longer hemmed styles than she would ever choose herself.
But usually these purchases remain unworn. Like this great shirt I bought her in Gormans at the start of the season. I guess it was really for me, who was I kidding. I'm the only one who has worn it and I can fit it as long as I don't raise my arms above my shoulders.
I am putting this "pretty shirt" as a wardrobe must because it is not only a good work shirt but I can wear it over anything in the weekend as well (as long as arms remain by my side etc)
Funnily enough its called the World's Collide shirt but I don't think this will be featuring in her world anytime soon!