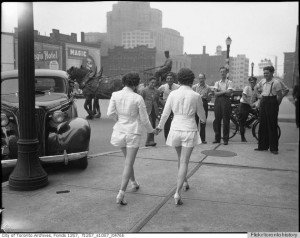 I have transitioned out of pantyhose. It's pretty much summer so its time to wear shorts.
Every wardrobe needs shorts. Bought Country Road drawstring ones today (I buy drawstring shorts there every year). Got them in black to see if one pair would last the summer but now debating whether I should have got white, daughter thinks so (more first world issues in my house).
And then came across this great pic from 1937, which was published with a title "women wearing shorts in public for first time cause car accident".
Maybe I should have got white ones.