I think this will end up being one of my most favorite and important posts so I really hope you find time to read it.
To start you off – here are three random quotes I picked up when I went to see the Nanette Cameron Interior Design Legend exhibition at Objectspace gallery in the weekend:
"…To empower women to have an opinion"
"The best gift you can give someone is a good example"
"If you inspire people to be more, dream more and do more. Then you are a true leader"
I had already profiled my favorite 60 and 70 something's for thewtfproject.com and had put it out to the universe that I needed a great 80 something to profile. And here she was …already part of the fabric of my own life story.
Growing up in the cultural desert of Pakuranga (a k a Vim Valley) in the 60's and 70's was like being incubated in a watered down antipodean version of Stepford Wives. Middle class women didn't work; they perfected the art of being a housewife. Few of us had role models on which to model a fabulous life let alone career. Luckily for me, my mother was Japanese and so my life perspective always came through a different sort of lens. I was also vaguely aware of a local woman called Nanette Cameron, mother of Kirsty a girl I knew, who had a life and identity that transcended even the remote notion of a career. Nanette Cameron was, wait for it, a famous interior designer….whatever that was! I remember it being the first work option I had heard of past teaching, nursing and air-hostessing, and it sounded so, well …fabulous.
Little did I know that 40 odd years on, I would be back in Pakuranga, in the Te Tuhi Art Centre, interviewing Nanette for something called a blog, and she at 86 years old would still be working, or should I say still be "fully self expressed" – a notion that I purport to be the secret to happiness.
Nanette Cameron is what is commonly called a living legend. Her life's work has been about her great passion for interior design the intersection of her interest in design/art/architecture. As founder of the Nanette Cameron School of Interior Design, and inspiration for the Nannette Cameron Interior Design Guild, Nanette has been at the forefront of this creative discipline in NZ for over 50 years. She was a critical part of a cluster of people who have bought a design sensibility into NZ homes.
In brief: Nanette graduated with a Bachelor of Home Science in the 1940's . It was back at uni when the notion of being an interior designer came to her, despite the fact there were none of those in NZ at all, and NZ was still years away from having a design scene. After an OE in the 50's, she returned to NZ and found herself working in a pottery studio which in turn introduced her to the burgeoning art and design scene in NZ. She married and went to live in her husband's small cottage in the then farmland of Pakuranga. Lucky, her husband also had great taste and allowed her to develop their Glenmore Road home into one of NZ's most engaging modernist design classics. Here destiny in interior design took shape – first as she became a night school teacher at Tamaki College in the late 60's early 70's (where incidentally my mother taught Japanese at the same time) and then at the Nanette Cameron School of Interior Design at Te Tuhi. Trust me, her life story is more layered and infinitely more colorful than this, color being the most vital part of her philosophy of design expression, but I wanted to give you a snapshot. The rest isn't history, it's living history and I urge you to trot along to Obectspace on Ponsonby Road Auckland to see the exhibition honoring her contribution to the arts (see more below)
Rather than focusing our discussion on interior design, I wanted to explore Nanette as a woman – what drove her, what she has observed about women and what is the secret to living such a rich and fulfilled life right into one's 80's. We shared some interesting philosophies on women and life – here's some snippets from our conversation….
SANDY: I notice women today have very structured ways of looking at their life. I don't like the word 'career' much – I believe people are on a journey to find out who they are and what they are about. Tell me about the development of your "career" or your passion for interior design?
NANETTE: I did not take a course in Interior Design but decided to learn by osmosis by visiting as many places as possible relating to the field and did a variety of jobs, supply teaching, being a nanny.…. you can still learn doing these things you see – even as a nanny, you are meeting interesting people, seeing interesting houses…
SANDY: I love that. I think women, and I guess men too, overthink things, they strategize their careers more than live their lives. If you are in the process of exploring who you are and what you might be interested in, opportunities seem to emerge… Were there any pivotal moments?
NANETTE: Well I had a great opportunity when I went to work at Hurdley's..I knew Derek Hurdley before I left NZ and shortly after I returned I read in the Herald that Hurdley's had opened a their new design and Furnishing Store in High Street [nb Vulcan Lane/High St. were in the late 50's and 60's the nucleus of Auckland's design scene
I had thought about Interior Design when I left uni. but it did not really exist. I had written to Milne and Choyce [a high profile department store] and suggested I that I could help women with their interiors, help choose their appliances, in fact be the complete answer to all their needs. The answer I got back was that they did not envisage any such position and if they did a man would be more suitable !
SANDY: I love that you weren't necessarily an overt feminist and yet you have empowered so many women to live their lives on their own terms. Apart from your mother, whom was clearly hugely influential in your life – going to university in the 20's, and her own use of colour in the home – did you have any other role models?
NANETTE: Yes I was very inspired by Marion, Lady Hall Best who was a dominant force in sixties design in Australia and loved colour and used it brilliantly
Also Eileen Gray. She was an independent woman who lived he life differently – she had affairs with both men and women, and kept on moving through creative phases. She started as a painter then went into furniture design, then she was very into Deco and then moved into modernism, a fascinating woman
NB – FYI Nanette also had the pleasure of meeting the amazing Florence Broadhurst a week before the latter was murdered in one of Australia's most high profile unsolved crimes.

SANDY: Being so creative and interested in design, how on earth did you cope living in Vim Valley?
NANETTE: Well, you know there were actually some interesting people around. Elizabeth Venter the weaver was living locally and I also met some interesting types there. Because there was a small nucleus of interesting people we got together to do something about our Vim Valley image and formed an Art group who eventually prevailed on the Manukau Council that they had built plenty of Sports faclities and it was time they supplied an Arts Centre. After a struggle we won and in 1975 the Pakuranga Art and Cultural Centre opened, financed by the Council, the first in New Zealand. This was a major achievment and we were very proud of to be the spear headers
(Note to self and all readers: like attracts like, don't blame your surroundings for your boring life).

SANDY: I read in the Nanette Cameron Interior Design Legend book that your approach was to make the personal political i.e. that you had a conscious feeling that you wanted to empower these women. Tell me more!
NANETTE: Well they were not all Pakuranga housewives, many of them came from other suburbs and mostly in the beginning many did not work. NZ was a patriachal society then and some husbands did not want their wives to take the course in fear that it might change them, particularly the !4 day Interior Design Tour to Australia. Some husbands said No! and would not give permission to their wives.
I thought it was so important for these women to invest in themselves. You owe something to yourself. By doing the course you learn about colour and then your own personal preferences come through.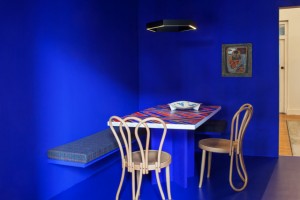 (Objectspace installation by Nanette and Katie Lockhart, shot by Darryl Ward)
SANDY: So is that what the color wheel is about? Tell me about the color wheel you talk so much about (All students do a color wheel early on in the piece where they start with the primary colors of blue , yellow and red and then mix colors from these to experiment with color)
NANETTE: The color wheel is not so much about choosing your colors but learning about color through experiencing it. By mixing it yourself you learn how color is created. You also learn about how the strongest effects come from contrast. Blue and Orange , Red and Green, Yellow and Purple are called Complementary Colours opposite each other on the Colour wheel and provide strong contrast. Yellow will make Purple appear richer
SANDY: Wow, this is an interesting analogy to the work I do in coaching. I often get people to play with their wheel of life, and indeed when you focus on one area often it does have an effect on a contrast area. It's the same thing really, getting stuck in and experiencing it yourself. That's how you learn…being in action. 

In my work I am fascinated with circles and the inherent balance of the wheel.
NANETTE: I love Yayoi Kusama and her circles. In the Wellington exhibition they covered the whole exterior of the City Gallery in circles it was amazing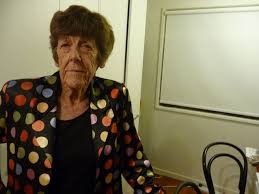 SANDY: I caught that exhibition in Sydney and was blown away. Have you been to Japan?
NANETTE: Twice. This year I went to Japan and part of the trip was to Naoshima Island and surrounding islands in the Inland Sea as part of the Seto Triennale, and saw amazing Kusama work as well as Tadao Ando's architecture . About 20 of us went, we loved it.
SANDY: You might be the only other person I know who has been there Nanette. It's my favorite part of Japan, I took my daughter there for her 13th birthday. What about the Comme des Garcons uniforms!
NANETTE: oh yes and that gorgeous Monet garden was looking fantastic when we were there…
NB: another ten minute conversation ensued. You know, this part of our conversation was fascinating, not only in sharing our experiences on Naoshima Island but talking to Nanette reminded me the age is only a state of mind. I really could have been chatting to one of my girlfriends my age or my daughter in fact
SANDY: Where were we? Color! You talk a lot about NZ's fascination with beige. What is that? Are New Zealanders really that boring?
NANETTE: Well I think it's about security really. And related to this is their whole focus on "selling a house". NZers seem to shift houses more than other people. That seems to be their focus when they move in and decorate their homes instead of living in it.
SANDY: That's an interesting observation, I totally agree. You had your beautiful Glenmore Rd masterpiece for years. We have had our Vlad Cacala home for 15 years and see it as a progressive creative project. We will sell it at some stage in the future, and there is no way we would dumb down the décor to suit the average NZer.
NANETTE: You see it all the time, when they sell homes and get the home staging people in; there is this effort to neutralize it and take out all the accessories and all of YOU …. they say they do this so that the house will sell
SANDY: Yes you know I wonder if it reflects the typical kiwi success framework – money. It's so one dimensional and bland. There are so many people who actually don't know or have never pondered who they really are so thus find it hard to express them creatively…
(This spins off into another interesting 15 min discussion)
SANDY: So you sold Glenmore Rd, where do you live now?
NANETTE: I live in Freeman's Bay in the heart of the city and I love it, I love being so close to what is going on, I love the fact that my town house backs on to a communal garden space and I am connected to so many interesting people that way too
SANDY: I am interested from a coaching perspective about the importance of connectedness and getting out to ensure you have that sense of belonging.
NANETTE: Even in exercise I made sure I went to the gym rather than being at home on an exercycle – its important to get out and be part of a group of people. And anyway when I was on the exercycle I would see housework that needed to be done and that might distract me…
SANDY: Is that your secret to looking and being so vital at 86: Come on give us some tips:
NANETTE: Well I have always been interested in eating healthily….just salads and plenty of veges and fruit. And I don't eat a lot of sugar; have never had a sweet tooth. …. I think a couple of glasses of wine a night are ok…and I walked for a long time an hour a day around the Pakuranga Estuary. It was beautiful loved it, it was always changing
SANDY: I loved the last quote in the book: from Jonathan Ittens – artist and Bauhaus teacher, which you give to your students in the first class of each course. "Learning from books and teachers is like travelling by carriage, so we are told in the Veda (ancient Hindu scriptures) but the carriage will serve only while one is on the high road, He who reaches the end of the high road will leave the carriage and walk afoot. One may travel carriageless and by unblazed trails but progress is slow and journey perilous. If a high and distant goal is to be attained, then is it advisable to take the carriage at first, in the order to advance swiftly and safely".
I love that in reference to the importance of taking tuition and significance of coaching… For me, I am at university part time doing a degree in women's studies but also studied and qualified in coaching later on in life. The whole concept of being a "coach" is a metaphor for an actual coach/carriage that helps people on their journeys. Coaching certainly serves people wanting to take the high road and advance swiftly and safely.
NANETTE: I love learning and I am still learning. But I actually love the sharing of the learning – to me is all about how well you share your knowledge rather than it just staying inside one's own heart and head.
To me it is all about the pleasure of sharing your knowledge with others, encouraging them to discover the richness that is out there
SANDY: I think that's why I do my blog. I am learning so much in my own journey and I want to share the learning.
And hence readers I am sharing my Nanette experience with you.
After I spent an hour and a half with Nanette, talking and exchanging ideas, she signed my Nanette Cameron book with these beautiful words:
To Sandy
It has been so great we have shared so much in common – Japan, friends, and Vim Valley
Warm wishes
Nanette

Check out Objectspace on Auckland's K Road who are honoring Nanette with a special exhibition on until Dec 20 – spend 45 mins watching the film of interview, grab a coffee (biscuits supplied!), enjoy the room and small exhibition curated by a gang of 3 of my friends – wardrobe guru and indie filmmaker Kirsty Cameron, arts producer and all round creative connector Viv Stone and cutting edge interior designer extraordinaire Katie Lockhart. As I sat there on Saturday afternoon taking it all in while my 13 year old was at home with Dad, and 17 year old was working her Saturday job at the salon, I suddenly thought – "hey, I have time to go to a gallery and then mooch around Ponsonby for an afternoon and not feel guilty about the kids!…I have my life back".
There is a sensational book that goes with the exhibition I suggest you buy (only about $40 – so interesting)
Thanks Nanette for showing others and me that there are always fabulous people to connect with right on your doorstep – you just have to be open to it.