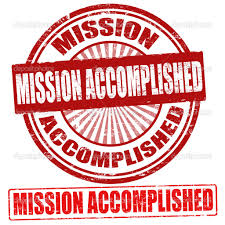 A couple of weeks ago I posted my favorite piece on The Hero's Journey and I refer to this when I hereby declare, with both a sense of accomplishment and relief, that theWTFproject is now complete.
My plan was to blog for 50 weeks, which transpired to 50 posts over about 60 weeks (but who was counting except me) . And in this, my 50th post, I want to share my personal story about my journey into the blogosphere in the hope it might get you thinking about your own project or initiative yet to be launched.
At the start, my motivations were a little unclear. An internal "call to adventure" had persisted for years and spurred on by my looming 50th birthday as well as the passing of a dear friend in her 50th year, I vowed to dive into that unchartered territory outside my comfort zone and start blogging.
It seemed that everybody was saying to me "why are you doing this?" "how are you going to monetize it?" "what are you hoping to achieve?" but that was because my ears were acutely attuned to questions resonating with my internal voice of self-doubt. Most people were simply thinking about their own life and projects-to-be and not about mine!
As I had been indoctrinated into a "return on investment" mindset I was full of questioning myself. But little did I know then that "the return" on this journey would be immeasurable.
Initially it began with my new Apple Macbook Air which I didn't know how to use, my friend Selena reading from a book called "Wordpress for Beginners" (seriously), and a bottle of wine to drown out a whole bunch of fears that I was wrestling with:
a) Fear that if I didn't do something like this, I wouldn't remain commercially relevant. This is one of those really good fears that actually motivates rather than paralyses.
b) Fear that I would run out of things to say and it would become just another unfinished project
c) Fear that I was too old for the game and wouldn't be able to work out how to actually do this
d) Fear that people would laugh at me in general…
e) …thus, somewhat ironically for a blogger, fear that people would find out about it. In fact as a forerunner to this blog site, I did another one for a few weeks which I only shared with about 6 girlfriends.
But after a few posts on my trial blog, I found that DOING something diverted my attention from over-THINKING and I decided to go a little bigger and redesign the blog.
Still completely out of my depth I assembled a merry band of helpers including Suzanne Kendrick an old buddy who specializes in digital, web developer Phillip Allfrey, and artist Isla Osborne. I didn't know what I wanted it to look like so they just got me playing on Pinterest. Three hours later it seemed that I did have a design point of view after all and my boards inspired the design of the blog.
Still sweating bullets in case people thought I was a complete dick, I started obsessing over traffic figures. One week I saw that 500 unique visitors had found the site – who were these people? Didn't they have something better to do?
Nice people started leaving comments, some public and some private and some were simply spam – that was a lesson in itself. I showed Suzanne – "look what this nice person wrote" and she said "No dear that's spam".
Somehow over time I stopped self-referencing to what people thought of me and became far more interested in sharing stuff I thought might inspire them. I kicked myself for creating such a complex blog – it was enough just to find something for the 'Catch Up' section every week but I had to fulfill my obligations in the Play Up and Dress Up sections as well! Darn! But I have no regrets about this now – my musical references have expanded hugely (click here for Jenna's learnings and her music advice for the future). Through my Dress Up column my wardrobe has been transformed (click here for my ten wardrobe rules) and through Play Up I have learned how a weekly challenge will get your life looking a lot different (read more)
And while I am truly grateful that the blog has indeed brought a commercial return on investment via clients and articles written about me, there is so much more I have got out of this experience that I wanted to share with you. Here goes:
Firstly I have learnt some practical technical skills. I can find my way around the back end of a website. Incredibly, I know what some of the symbols mean; this in itself has reduced my recurring techo-phobia.
I've learnt about social media from the inside out. I wasn't even on Facebook when I started and had only a passing interest in Linked in, let alone Pinterest or Instagram. All of these platforms have expanded my personal and professional life in all sorts of ways. At the very least by being introduced to a variety of platforms, I see the world differently – there is not just a whole world out there, there is a whole universe IN there.
I have always been fascinated by generational differences and this has allowed me to reframe my view on younger generations. I decided to enlist the support from two YOUNGER mentors – my niece Jenna (see Listen Up) whose digital life is a big part of who she is, and Natalie Smith, a 2 cool 4 school pro blogger – collectively they have enriched my view of the world.
Sharing a project with Jenna who is also my goddaughter has allowed me to get to know her in a different way – as a colleague. I have loved watching her own journey unfold not from above but from alongside her.
I now understand the importance of having some sort of creative self-expression in your life. I have always loved writing and the blog ensured that this part of me was fed on a regular basis. It has lead to me also write a column for a new magazine called The Hobson (my friend Kirsty's big project/outlet for self expression).
TheWTFproject has taught me the power of clear intention. I.e. By declaring the intention in finite terms, I just put one foot in front of the other to complete the intended 50 week project. If I had been vague about the intention, if I had just said, "I am going to blog" I don't think I would have had the discipline to keep it up.
The blog has helped me get over myself. One of my first posts was about Brene Brown's work on vulnerability. By being vulnerable you are on the road to being authentic which has become a huge theme in every aspect of my life. I realized that the more of me I revealed, the more people responded, and the less I cared about what others actually thought.
And thus most profoundly it has helped me clarify my purpose in life.
The obligation to 'feed the beast' meant I was always on the look out for things and people that I would be motivated to write about. I began to notice what I was drawn to. It was always pretty consistent – interesting and inspiring women. I began to see them all over the place and was occasionally able to interview some of them. Life got a whole lot more interesting when I was researching and talking to older women who continued to evolve and grow as they matured. It got me thinking about what I wanted my own life to be about.
It led me to my first university lecture on 'gender and the culture of everyday life', and it was in the middle of this that I had a profound moment of clarity – this is where I am supposed to be, this is what I am supposed to be doing.
As a kid I had been unusually interested in the suffragettes( oh to have been born a Pankhurst! I used to think. I have always loved a good protest). As a 20 year old, Helen Gurley Brown's book Having it All was a game changer for me. That sexually liberated pioneer who created Cosmopolitan magazine in the swinging 60s fascinated me and thanks to my friend Debra, an ex New York based Cosmopolitan publisher, I once met Helen Gurley Brown on her 76th birthday at a private dinner … (but that's another story.) Later on I loved working on brands that connected to women and I researched women endlessly. In my spare time I have been singlemindedly drawn to biographies on groundbreaking females who had the courage to live by their own rules (Lee Miller, Katherine Graham, the Mitfords, Peggy Guggenheim, Yoko One to name just a few – I love them all for disrupting models on how women are supposed to live).
I believe we are in the midst of a new wave of feminism and while I can't articulate exactly what it is and what will happen next I fully intend to be immersed in it. I am interested in understanding the real differences between genders and the differences between women themselves across generations and socio economic levels (women have never been one sisterhood) , and bringing this understanding into leadership not just at work but in the wider sphere of life.
I was recently invited to become a member of Global Women a not for profit organisation committed to women in leadership and soon after was offered a role as Director of Leadership Development which I have taken on. In this blissful intersection of who I am and what I do, I can say that I am not doing it for the money, I am doing it "on purpose".
So thank you to everyone who has supported me and for those who read my blog.
Here's to you taking up your own "call to adventure", here's to you starting on your big idea, and to starting the next chapter in your life story.
My friend, a successful entrepreneur, always says, "Opportunities don't shout they whisper". I was thinking about this the other day when I came across this one by Thomas Edison, which I will leave you with
Opportunity is missed by most people as it is dressed in overalls and looks like work.
SB March 2nd 2014 xxx