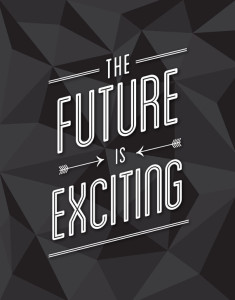 Quite a bit has changed for me since November 2012 when my first Listen Up post went live. Mainly, I'm no longer quite so "direct from the music industry" as the little bio blurb on here says. You'll remember me mentioning leaving my job at the end of last year here.
For my final WTF post, Sandy has asked me to write about how I realised I was meant to be doing digital work and where music now fits for me.
Shortly after I'd been employed, I put my hand up to start the company's social media accounts, because a) they weren't on any networks and b) as a "digital native" it just seemed like a giant missed opportunity. This was a major record company after all. WTF. It was also a great opportunity to carve out my own niche. They let me run with it, I was managing the socials completely and then I was writing localised online content plans for major international releases. Planning and executing. Loved it.
I was progressing in my marketing role, and was promoted to Label Manager. Community/content strategy was never the main part of my job. It was something I added to my own job description early on, because I really enjoyed it and was lucky they gave me free reign over it. Unfortunately though, Digital (by that I mean social media & content strategy) could never be my primary function at work because that sole position just doesn't exist within the company. Yet.
Life and work was busy but in my spare time I was still doing things like researching the latest online trends, I went to night school to study digital marketing, I was blogging, sharing content online… the bells were beginning to ring for me – that while my head was over here directing TVCs, writing market reports on how the priority artists were tracking etc etc, my heart was very clearly somewhere else.
I resigned and left the company four weeks later. About a month after that I registered my company and I'm following those bells that ring true for me – digital communications, social media and content strategy. You can find my Digital Donburi website here. I'm just getting started! So, shameless plug – do get in touch if you want to find out more about what I do here.
The funny thing is that before I even got my previous job, I wrote a list. On this list I wrote my ideal job – every detail. Would you believe that I got it? I strongly believe in the power of list-writing and creation. Would you also believe that I once wrote down that I wanted a free trip to Melbourne then a few months later, long after that list was tucked away forgotten – that I had indeed won a trip for 2 to Melbourne? I once relayed this story rather drunkenly to Bic Runga at a work do. I think she liked it. Did I write a new list about what I want my new dream future to look like? You bet I did.
Where does music fit in my life now? I'll still be listening, playing, sharing and blogging. More plugs: follow Digital Donburi (for the technology-skewed) and my new personal blog Hello Relax if you want to see more from me.
Tips for you:
Shazam: a must have app for when you hear a song somewhere and want to know what it is. longer.
Spotify vs Pandora: try these music services. Have a play. Play being the keyword, don't be afraid of giving new things a go. And if you find they don't work for you – delete them. Don't hoard app clutter.
Radio: Kiwi FM – this station just sounds good to me. A little bit like old bFM. 102.2FM in Auckland or online here. http://www.kiwifm.co.nz/ It's not too heavy or intimidating. Give it a try.
Otherwise, if you like the classic stuff then stick with The Sound.
And if you still want to hold on to Barbara Streisand, Hall & Oates etc then that's fine. Experiment and listen to what you love. Trust me, you'll be happier for it!
Thanks for reading
Jenna x
PS I've been listening to Chet Faker a lot lately, so this is my last piece of music for you (there's a little explicit language just so you know):