About TheWTF Project
Hello there. Welcome to TheWTFproject. I'm a recently reformed careerist, well meaning wife and mother of two, brand maven, coach, researcher, budding writer, mahjong enthusiast, hopefully a good friend and lastly it appears – a Woman Turning Fifty. When I realised that I was going to turn 50 at some point (Ok, to be honest, next year), I thought – WTF? I haven't had time to become the person I'm meant to be!
So with that looming milestone in mind, I've decided to fast track a whole lot of changes I have been meaning to make (updating my music collection and wardrobe for starters) and explore some of that unchartered territory just outside of my comfort zone.
I've had a propensity to think about things rather than getting around to actually doing them. For instance writing a blog to share inspiring stories, since blogs are what other people seem to do these days. (Can't be that hard I thought..…wrong….) So now I just have to do it.
I'm planning a 50 week project so I have 50 new experiences, 50 new music tracks, and a wardrobe streamlined to 50 nifty pieces by this time next year. If you sign up (please do) I'll update you every week on what's happening plus send you something inspiring to think about. That's the plan anyway. I'll also share one addition to each of my 3 "makeover" projects with a little help from my niece Jenna (a music executive direct from the 'younger generation') who is selecting more appropriate music for my friends and I to listen to. (Everyone's a little sick of Barbra Streisand and Crosby Stills and Nash around here).
This year one of my closest pals passed away at 50. It was a brutal reminder that some people don't get a chance to play anymore. But lucky for us, we still do. So WTF?  Here's my blog.
SANDY B
Guest Blogger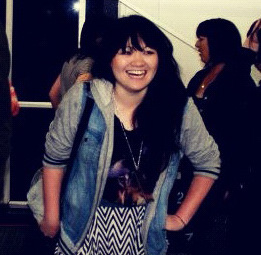 Jenna Wee direct from the music industry via the "younger generation"
http://flavors.me/jennawee