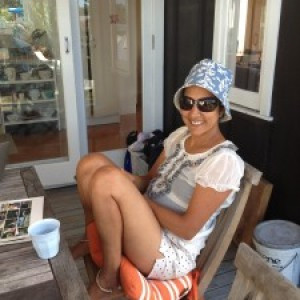 Happy New Year. I've been hoping to do a series of interviews with inspirational women whom may inspire you to think differently about they way you live.
So at our annual New Years Eve soiree on Great Barrier Island it was great to meet Meena Kadri – a fabulous woman who describes herself as 'laterally ambitious' with a fear of heights has kept her well away from any tedious professional ladders. As a result the way she lives and looks at her working life is inspired. As a global "cross pollinator" she works from wherever she wants in the world, travels a lot for work and pleasure and by choice bases herself in Wellington NZ.
SANDY:I am interested in the the idea of "Who you are vs what you do". If you get who you are, often the "what you do" bit flows more easiy. So first up how would you describe who you are:
MEENA:
I am someone who is curious about the world. If there is something or someone that tries to put me in a box, I always want to look past it. I enjoy being agile. I ask myself how can I add value and how can I learn.
I call myself a "cross pollinator". This idea has always been a big thing for me – I like passing on info, I like co-creating and collaborating.
SANDY:
So how has this led to what you do?
MEENA:
I am a Community Manager on OpenIdeo which is a collaborative platform bringing people together to solve big challenges for social good. So people fom all over the world can contribute with ideas. We have over 40,000 people signed up from doctors to students to engineers – anyone. My role is to go in to the challenges, whether we are in an inspiration or a challenging phase and facilitate discussion. It's also observing people's behavior in online collaboration so I can help our online development team develop insights and develop features for the site.
I see social media as being about talking and listening at the same time which is so different to what things are like in the broadcast media world.
SANDY:
I love the OpenIdeo site and hope all who read this take a look, get inspired, and contribute to it. How did you get this gig?
MEENA:
I got it though twitter! I had been contributing, tweeting and saw this role come up. I didn't realise that they had noticed me on twitter.
SANDY:
You inspire me on many levels – you are a real global NZer; you are also what I call a Kiwiasian with a different take on being a local NZer; you are one of the few NZers I have met who have managed a stimulating global nomadic working life that keeps feeding them creatively and intellectually. How have you swung that?
MEENA:
I liked the idea of finding projects that sounded interesting and finding a way that I could work with them. I also have my consulting company RandomSpecific which means I can work all sorts of other interesting projects.
SANDY:
How has your NZness helped or hindered you?
MEENA:
In terms of the work that I do in the world on social innovation, it is about group collaboration and I reckon that coming from NZ I have a "muck in" attitude. I reckon that NZers can collaborate well, things are not hierarchical even in the education system or the way we holiday, we all muck in, so I've been really happy to do the dirty work on small start up projects.
I used to think it hindered me being stuck down here in NZ, but I figured out that the way the web has gone you can do it all from here. I had travelled so I had insights to places like India but I could come back and do it from here. Often on skype calls with groups globally I collaborate with I am always the one up at 2am but I am used to it and take it in my stride.
There is a generation of us who want to do interesting things and the only way we can do it is globally. The temptation is to run away and do them somewhere else, but I am really proud I've manged to do it from NZ, where I want to live. I took it as a challenge to embrace.
SANDY: How did your global online work really kick off?
MEENA: Blogging was a big thing for me. I was working in advertising and because I had all these random and specific stuff/thoughts/projects….. I would google stuff etc and blog about it and after a while you get a sense of yourself and connecting dots and I started to figure things out. And I started getting feedback and people reblogged my things… it was an affirmation and confidence-builder. After a year of doing it, I wondered if I could go out of my own and do this, bring together communications, culture and creativity.
SANDY:
I get that. Blogging has been a great way for me to explore who I am and figure things out. Weird in that we do this in a public forum. Tell me more about life before the online world captured you. How would you have answered this question when you were 16 – what do you want to be when you grow up?
MEENA:
I wanted to be a doctor like my parents
SANDY:
And at 21?
MEENA:
Well I had studied anthropology at uni and I was really interested in different cultures and just starting to understand that culture isn't just about different countries it is also about subculture – punks etc, that you could drill down into different layers in societies.
(Meena then went on to do a post grad degree in design which led to an interesting working life spanning film, advertising, journalism, academia, working in a few places including India and Hong Kong)
SANDY:
What about now – What do you want to be when you grow up?
MEENA:
I like the idea of being involved in things that empower other people to act on their curiosity and collaborate with others.
I have never been one that has been totally specific – I am confident enough to know there will always been opportunities. I don't have a linear plan.
SANDY:
You really have a working life that speaks to who you are. What is your advice for women who'd love this to be the case for them?
MEENA:
It's about saying NO to stuff. The work I did all had meaning to ME; it all made sense to ME. So you have to be prepared to live and work by your values. When you do that people see authenticity.