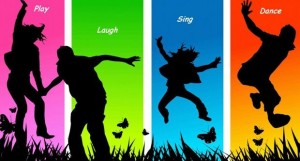 On this my final Play Up post I wanted to share how this part of the blog has impacted on me.
I thought I was going to have mountains of fun setting myself this weekly challenge noted above, but it was actually a pain in the arse. As if life wasn't busy enough I would often think – oh god, now I have got to do something vaguely out of the ordinary so I can write about it. The original intention quickly morphed into me just taking up opportunities that were already there or simply saying Yes, rather than "no, I can't be bothered". I mean, I had to write about something!
But I have the Play Up part of the blog to thank for jolting me out of my routined life; it put both a tennis raquet and golf club into my hand again, it got me enrolling at university, it introduced me to stand up paddleboarding, it taught me how to salsa dance, it got me mindfully meditating and actively engaged in more cultural events, it inspired me to try public transport (ok, not that often I admit), it made yoga part of my regular routine, it made me start two little gardens …..and showed me a host of other things.
It is all too easy to get locked into patterns of behavior as we busy ourselves with our routines. It is not uncommon to find women who say "I don't seem to have any real hobbies or interests". I reckon there is a whole lot of bored and lonely women out there. I am not talking about the stereotype of 'single woman in suburban town house patting her cat in front of reruns of Coronation Street'. I am talking about married women, executive women, busy women who are vaguely aware that they have lost sight of who they are aside from an identity created by their job, their illness, their past, or their role as wife and/or mother.
There are plenty of benefits of snapping oneself out of routine. For starters, it is an easy way to gain some hobbies and interests: just keep doing stuff till something sticks. What's more, changing routines will change your way of being, which in turn will break the neural pathways in your mind – a proven method to enhance creativity and innovation.
You will have heard about the importance of being present. This is the part of the blog that has helped me enjoy the here and now on a consistent basis and get over a recurring case of F.O.M.O (fear of missing out). Whether its pfaffing about on my paddle board or stumbling along to the weekly salsa dancing class, it has made me appreciate many more little moments that make life great.
It was worth the effort.
Sx